Application Procedures
Virtual Open House
The Chemistry & Biochemistry Department hosts a Virtual Open House in November for students interested in both the traditional Chemistry Ph.D. and the CB3 Chemistry Ph.D. program. 
November 3, 2023, 10 am - 2 pm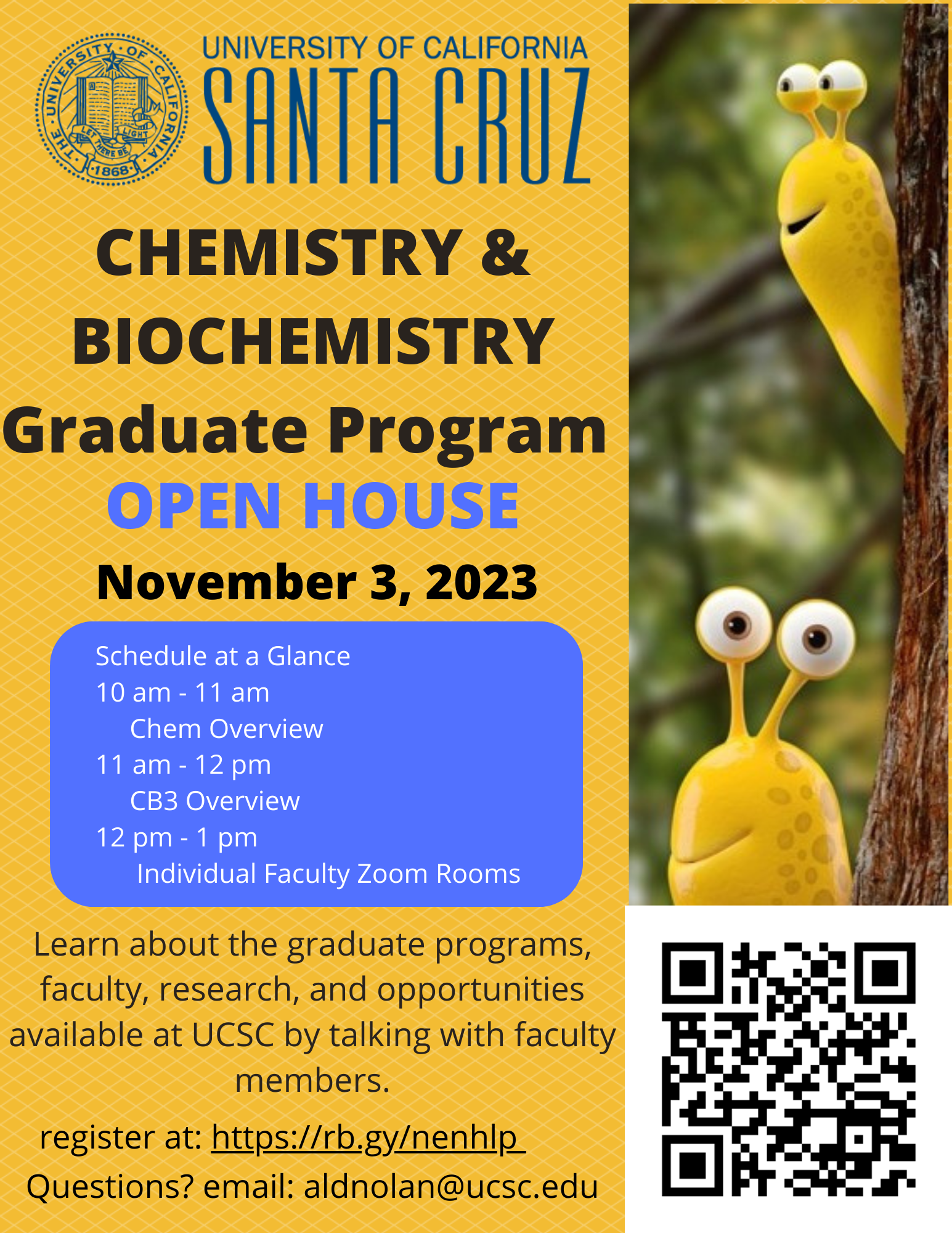 GRADUATE TRAINING PROGRAM IN BIOMEDICAL SCIENCES & ENGINEERING
APPLICATION PROCEDURES
The graduate training Program in Biomedical Science and Engineering (PBSE) crosses traditional departmental boundaries and provides students with diverse research opportunities. Rather than applying to a department, prospective students apply directly to the PBSE, indicating interest in one of four training tracks:
Each track features unique coursework and research opportunities, while also offering courses and seminars that overlap with other tracks.  This approach facilitates interaction and collaboration, exposing students to the diverse research that occurs daily across disciplines at UCSC.
PBSE is a Ph.D. granting program only.  Students interested in master's degree programs should go to the departmental links at the bottom of this page.
APPLICATION PROCESS
Only online applications are accepted.
Applications to PBSE must be received by November 30th for acceptance in the subsequent fall. 
The completed application must be accompanied by a non-refundable $135.00 fee ($155.00 for international students). If you are a U.S. citizen with financial need, you may request a fee waiver, within the application process. For more information see the Admissions Fees Page. 
Additional fee waivers for international students are available, please see the information in the admissions pages.
APPLICATION REVIEW CRITERIA
Undergraduate record

: overall GPA and grades in relevant courses

Graduate Record Examination (GRE) scores

: GRE General or Subject Test Scores are not required for application or admission to any of the tracks.

Letters of recommendation

: Three letters in electronic format only

Previous research/work experience

: While not required, most successful candidates have acquired some laboratory or research experience, either during their undergraduate career or while working in industry.

Research interests

: Research interests, as put forth in the applicant's personal statement, are evaluated for their relevance to the PBSE program and selected training track.

Personal Interviews

: Based on the above criteria, applicants will be invited to visit UCSC for personal interviews with faculty members and current graduate students. Transportation and other costs of the interview process are covered by the program.
ADMISSION
Admission offers are sent from mid-February through March. To be formally admitted, the Graduate Studies Office must receive acceptance by April 15th.
FOREIGN APPLICANTS
The CB3 graduate program places a high value on the presence of scholars from diverse nations and cultures, and actively solicits applications from foreign applicants. However, due to limited financial resources, we can only make a small number of offers to non-U.S. residents. Foreign applicants from countries where English is not the primary language MUST take the Test of English as a Foreign Language (TOEFL). A minimal score of 89 (on the internet-based test) is required. TOEFL scores are good for two years from the test date. Any international students who wish to be considered for Teaching Assistant opportunities must score a 26 or higher on the Spoken Word portion of the internet-based test.
For those choosing to take the IELTS, a minimum overall score of 7 from the IELTS test is required for admission. A speaking portion score of 8 from the IELTS test is required for all new international students who may serve as a Teaching Assistant at any time during their graduate career.
For additional questions, please see International Applicants Information on the Graduate Division site.Fee Waiver


Fee Waiver
All applicants are eligible to apply for a fee waiver. The department has a limited number of waivers available and will evaluate requests on a case-by-case basis. Note: The online application portal states that international students are not eligible; however, the Chemistry & Biochemistry program will consider requests on a case-by-case basis and work with the Graduate Division to allow international students to apply for the application fee waiver if needed.

At a minimum, applicants need to have completed, uploaded, and submitted the following items to their application: statement of purpose, personal history statement, statement of financial need, and resume. Do not pay the application fee, we cannot reimburse application fees.

Requesting the fee waiver:

Domestic Applicants: In the application portal, follow the directions for requesting a fee waiver. If you are denied a fee waiver, please contact aldnolan@ucsc.edu to state why you are requesting a fee waiver and attach your statement of need. If you are granted a fee waiver by the department, we will provide additional directions for how to complete the application.

International Applicants: Contact aldnolan@ucsc.edu stating why you are requesting a fee waiver and attach your statement of financial need. If you are granted a fee waiver, we will provide additional directions for how to complete the application procedure (DO NOT select "Fee Waiver" as an international student).

Statement of Financial Need: The statement should not exceed one (1) page and should fully explain, in your own words, your need for financial assistance with the application fee.

Note: If you have applied, and received, a fee waiver for a past application cycle, we are unlikely to grant one for this application cycle.
APPLICANTS WITH DISABILITIES
Students with disabilities, including learning disabilities, are welcome to apply.
TRANSFER APPLICANTS:
It is possible, though uncommon, to transfer from another Ph.D. program to the PBSE graduate program. Course or rotation requirement waivers are made on a case by case basis.
ADDITIONAL INFORMATION
General information about UCSC graduate admissions, support, and application FAQs can be found at the UCSC Division of Graduate Studies website and the new Graduate Admissions site.
For email questions about applications, contact the Graduate Admissions Office at gradadm@ucsc.edu, or call 831-459-5905.
For specific research questions, contact relevant PBSE faculty members directly.
PBSE is a Ph.D. granting program only. Information about masters degree programs in related areas can be found at the following links:
| | |
| --- | --- |
| | UCSC's Graduate Program in Biomedical Sciences and Engineering is supported by training grants from the National Institute of General Medical Science and the National Human Genome Research Institute. |